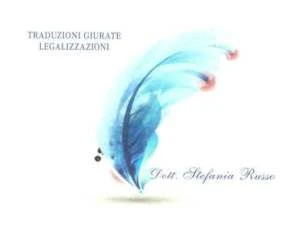 Studio Traduzioni Giurate dott.ssa Stefania Russo
Sei in: Altro
English home page
Worldwide Translation Services
Do you need a certified translation? You have come to the right place!
Our company is a language translation service based in Naples - Italy. We offer certified translation and interpreting service. You will receive highly qualified translations which may be certified by our official translators and legalised by apostille . Every certified translation is provided within the shortest time possible. Our certified translations are appropriate for use in a court of law, with overseas embassies and consulates, and for any legal matters. Corporate documents, judgements, patents, pharmaceutical documents, powers of attorney, immigration, legal and inheritance matters, certificates, contracts and international trade litigation are only some of the specialist areas covered by us.
We translate for attorneys, notaries and solicitors who need an official translation of their documents. We provide official interpreters for your wedding ceremony in Italy. Moreover we attend law courts when trials with foreign speakers require an official interpreter.
Thanks to our many years of experience working on projects and to our carefully selected resources, we can offer you qualified translation services in the following areas:
Specialized technical, scientific, legal and economic translation
Certified translations and legalization by apostille
Website or Web page translation services
Translations for official organisations
Localization of software and websites
Interpretation services for your business
Legal support, wedding planning and translation service for your wedding in Naples
Additional services such as editing (DTP), testing, dubbing, subtitling, image processing, terminology management, style correction, proofreading.
As part of our commitment to satisfy our clients' requirements, we offer:
High quality translations:

Our translators are highly qualified linguists with a proven track record in both general and technical translation.
Free quotations:

Regardless of the volume and type of material that needs translating, we are confident that our rates are highly competitive and offer free quotes.

Highly competitive prices:

We are committed to offering you the highest quality translations at the lowest rates on the market.

Extensive variety of subjects:

We provide translation services in a wide array of subject areas, including: legal, technical, medical , brochure, website, financial, pharmaceutical, aerospace, etc

Fast turnaround times:

We offer a rapid response without compromising the quality of our service.

Confidentiality:

Our Translation and Interpreting Office maintains a confidential translation policy regardless of whether the translation project is the translation of a legal contract or something much more general
Please contact our office if you have any particular queries or to get a free quote :
Tel: +39 081 5602666, Fax +39 081 5601820, e-mail: stef.rus@alice.it
We would be delighted to help you.